Aggregates and individual components for Waste Paper Pulpers
Application
The UVV (regulations for the prevention of industrial accidents) stipulates that vats and containers must have an opening at their deepest point with an inside diameter of at least 0.6 m that can be sealed tightly to safeguard against unauthorised or accidental opening and which enables a rapid aeration or ventilation as well as safe access for actions such as the performance of maintenance, service or repair work.
We have the solution!
The Lohse Safety Access Door (manhole cover) seals reliably and has been inspected by the mutual indemnity association (Berufsgenossenschaft).
Our opening system provides safety and security: The opening of the seal occurs independent of unlatching. This prevents accidental opening of a possibly full container.
Our safety access door is extremely versatile and can be used:
in pressure and vacuum environments
with round and rectangular containers made of steel, stainless steel and concrete
All parts coming in contact with the stored medium are made of DIN 1.4571 stainless steel. All parts not coming in contact with the medium, such as strengthening ribs and binders, are made of DIN 1.4301 stainless steel. The hand wheel is made of aluminium. Bushings and hinge bolts are made of cast copper. The concrete cast parts are made of DIN 1.4301 stainless steel.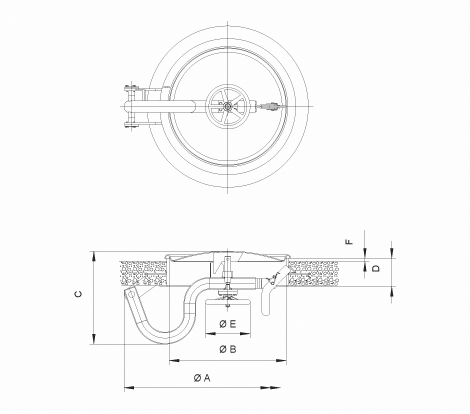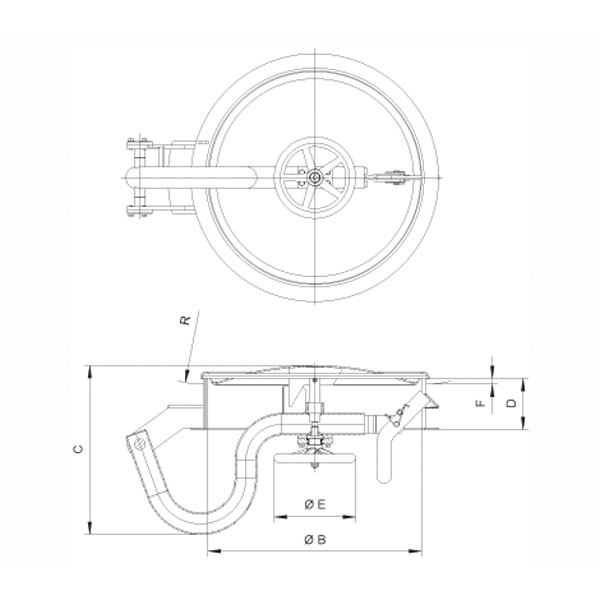 Technical Data
| | | | | | | | | |
| --- | --- | --- | --- | --- | --- | --- | --- | --- |
| nominal size | A | B | C | D | E | F | R | operating pressure |
| Ø 600 B4 | 1070 | 600 | 430 | 142 | 225 | 16 | | max. 20 m water column |
| Ø 600 S4 | | 600 | 430 | 142 | 225 | 16 | see information | max. 20 m water column |