Sand Separator / Hydrocyclone
Application
Sand separators are used for heavy contaminant separation from suspensions. Wire and pieces of metal sheet, in particular small, grainsize particles, such as glass and grit, will be separated.
Construction
Hydrocyclone
Headpiece including inlet and outlet pipes provided with wear-resistant inserts
Separating cone with wear-resistant insert
Intermediate pipe
Dirt trap
Two pneumatically operated special gate valves
Flush valve
Operation
The suspension entering the head-piece in tangential direction is subjected to high centrifugal acceleration based on the hydrocyclone principle. Under the effect of this, contaminants are flung to the wall of the separating cone, from where they sink into the dirt trap through an intermediate pipe, followed by the clean suspension being discharged from the headpiece of the grit separator in axial direction.
Two looking glasses have been provided in the dirt trap for checking the sinking process.
Heavy contaminants, such as adhering fibrous particles, are removed by the addition of backflow water to the dirt trap.
Adjustable operating cycles of gate valves and dirt trap guarantee high adaptability to any level of contamination in the suspension.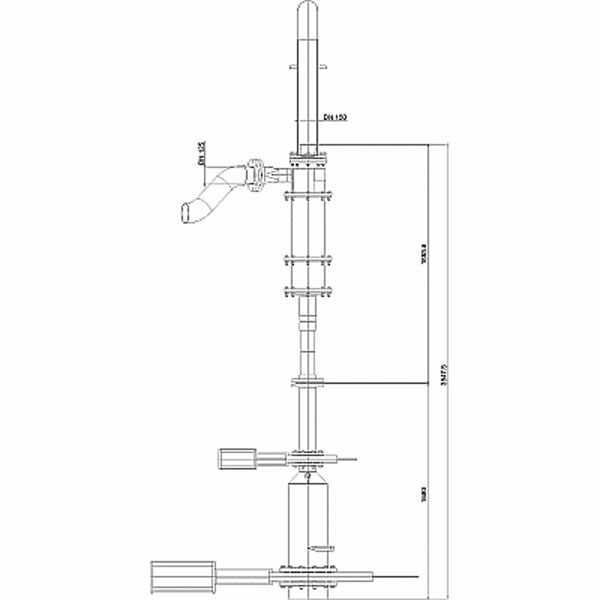 | | | | | | | | |
| --- | --- | --- | --- | --- | --- | --- | --- |
| Type |   | 160K | 160T | 200K | 200T | 250K | 250T |
| throughput | [l/min] | 600 | 450 | 950 | 800 | 2000 | 1600 |
| pressure loss | [bar] | 0,5 – 1,0 | 0,5 – 1,0 | 2 | 2 | 2 | 2 |
| consistency | [% of weight] | 2 – 5 | 6 – 12 | 2 – 5 | 6 – 12 | 2 – 5 | 7 |
| outlet -Ø | [mm] | 50 | 50 | 50 | 50 | 100 | 100 |
| inlet -Ø | [mm] | 80 | 80 | 80 | 80 | 125 | 125 |
| trap -Ø | [mm] | 100 – 250 | 100 – 250 | 100 – 250 | 125 – 250 | 125 – 250 | 125 – 250 |
| particle size | [mm] | < 20 | < 20 | < 30 | < 30 | < 30 | < 30 |